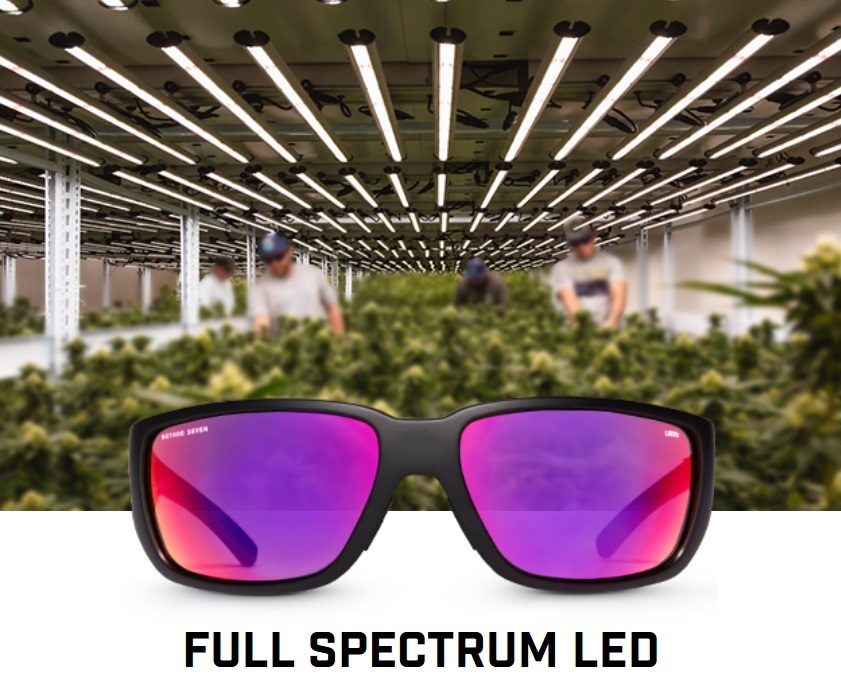 Order Method Seven Glasses, please visit KWEKENMETLED
Method Seven Labs spent years building the perfect full spectrum LED grow glasses with Carl Zeiss Vision. Our FX lenses achieve a perfect balance of dark and light so that you can view your canopy with confidence and protection under bright white full spectrum LED lights.
*Not for use under magenta, pink, or red spectrum LED lights.
Full spectrum LED lights are quickly becoming the go-to choice for many growers. Though it may look like a sunny day under bright white LED grow lights, this engineered spectrum requires overkill protection. Regular sunglasses shift the color balance away from natural light, and are often simply too dark for the specialized full spectrum LED grow environment. Method Seven full spectrum LED grow glasses block harmful UV and infrared while allowing plenty of safe light into your eyes, so that they can work more naturally and with less strain. So get those tomatoes, leafy greens, and weed growing! We are in the midst of a pandemic and the people need you!
Cultivator FX

De Cultivator FX biedt een uitstekende waarde en uitzonderlijke lichtbalans voor lampen met een volledig spectrum. Deze polymeerlenzen bieden 100% UV-bescherming plus een infrarood buitenste lenscoating.

Lens Technology

Method…

Classic FX Clip-on

Methode Seven "Fx Clip-On" verandert de manier waarop u uw planten en kweekruimte ziet met uw eigen bril op sterkte! Onze clip-on in Classic-stijl heeft veerbelaste, met rubber beklede metalen clips die zachtjes aan uw bril…

Aviator FX Clip-On

Methode Seven "Fx Clip-On" verandert de manier waarop u uw planten en kweekruimte ziet met uw eigen bril op sterkte! Onze clip-on in Aviator-stijl heeft veerbelaste, met rubber beklede metalen clips die zachtjes aan uw bril…

Agent 939 FX

De Agent 939-frame wikkelt zich met een gebogen basis 8-lens voor volledige bescherming, samen met de grote en gedurfde slaapzijde voor zijdelingse lichtbescherming. Bomber scharnieren en verzonken rubberen neuspads maken de Agent…